l'Ampolla, 18 May 2019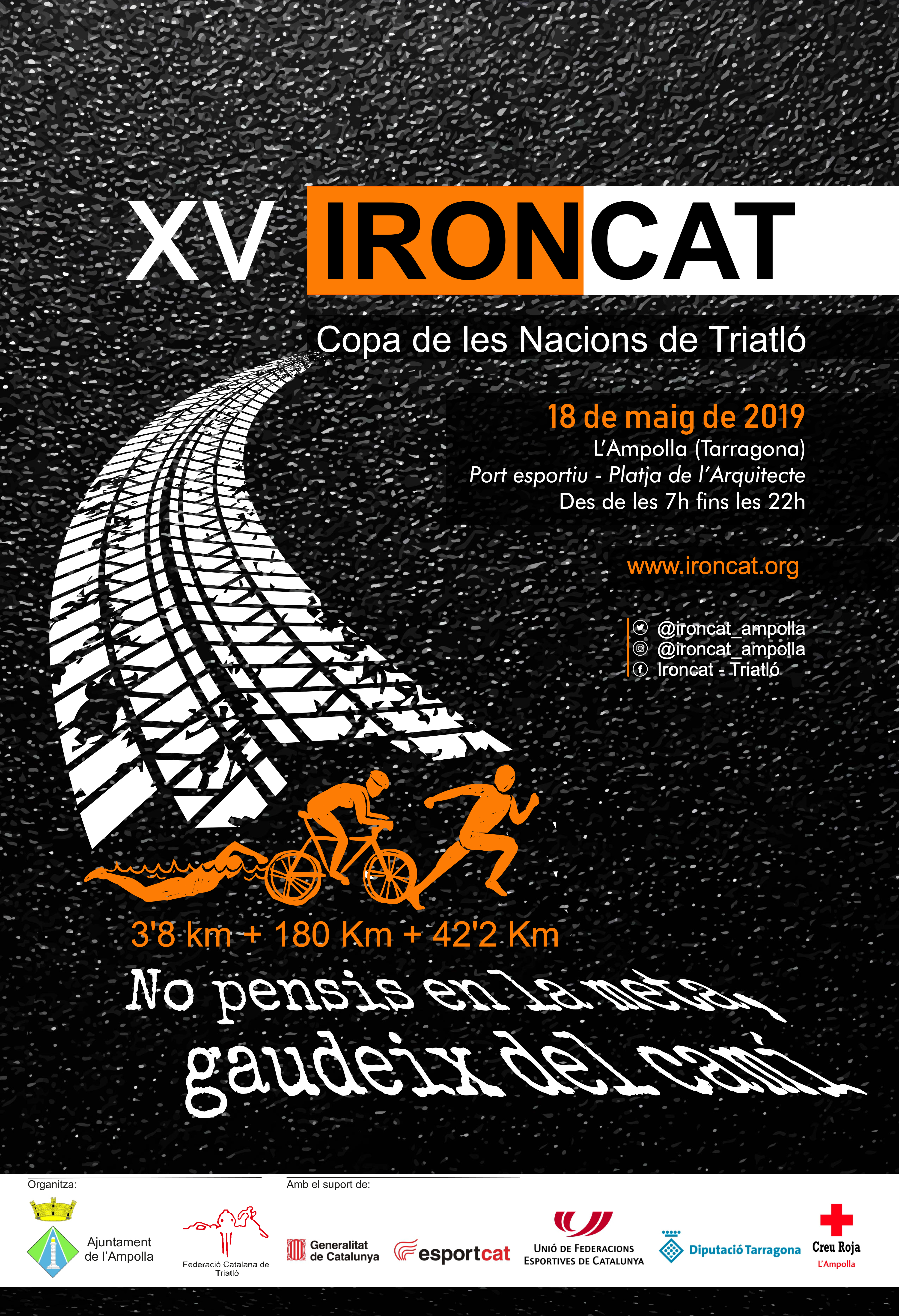 A long distance triathlon for everyone
If you really want to, you can do it!!!
© 2007 - Federació Catalana de Triatló - All rights reserved
| | |
| --- | --- |
| | .Presentation |
Since 2004, the Catalan Triathlon Federation in collaboration with the excellent L'Ampolla town council (Ajuntament de L'Ampolla), and with the support of the main regional public sports institutions has been organizing the IRONCAT sporting event, in long distance mode.
From the very first edition, the IRONCAT project has given great enthusiasm to the Catalan Triathlon Federation, who continues to pursue its desire to excel both on a personal and on an organizational level year after year.
These two words, Enthusiasm and Excelling would be meaningless without the most important part of IRONCAT, you, the triathletes. The personal side of IRONCAT. For this reason we would like to invite you to participate in the IRONCAT experience, and spark the Enthusiasm of those who have not yet participated, and for those who already have, to Excel above your last personal best time.
IRONCAT is an event that strongly encourages those participants who would not normally opt for this distance to try it out for the following reasons:
• Location and easy-access.

• Price of entry.

• Personalized treatment.

• Flat terrain of course.

• Great atmosphere.

• Surroundings of L'Ampolla town and national park area of Delta del Ebro.

• Accommodation and eating out
The event takes place in the town of L'Ampolla (Tarragona province) and around the Delta del Ebro.
---
Presentation: http://prezi.com/cnaqxasc0jf7/?utm_campaign=share&utm_medium=copy
Event programme:
On 17th:
Briefing at 5pm, and bib collection in Hotel Flamingo. Ronda del Mar, 58, L'Ampolla. Briefing Google Maps
On 18th:
06am transition area opens. Location of transition: In front of the Nautical Club of L'Ampolla.
7am: Start time.
Time limits: Swim: 2hrs. Swim + Bike: 10hrs. Swim + bike + 36km of run: 14.15hrs.
Maximum time limit: 15hrs.
Event rules: The FCTRI regulations will apply for this type of event.
| | |
| --- | --- |
| | .Swim |
Circuit Plane

Course details:

3,800mtrs 3 laps around a rectangular course located in the natural port of Fangar.

Start and finish at the L'Ampolla Nautical Club Port.

Home
.Bike

Circuit Plane

Course details:

180km distance of 6 laps around a 30km course, 90% of which closed to traffic.

No drafting permitted.

The course is totally flat, except for the final 2km light uphill towards the transition zone.

.Run

Circuit Plane

Course details:

42.2km mixed terrain course of asphalt and gravel, 6 laps of 7 km.
.Prizes

3,900euros of prize money

Trophies for the first three classified men and women (individual and clubs).

Medal and Finisher t-shirt for all finishing participants.

A special classification will be made for foreign entrants with a trophy for first country classified which will be based on the sum of the first three best competitor times for each country or nation. Remember to state your nationality on the entry form.


| | | |
| --- | --- | --- |
| Individual | Masculine | Feminine |
| 1 | 550 € | 550 € |
| 2 | 400 € | 400 € |
| 3 | 220 € | 220 € |
| Club | Masculine | Feminine |
| 1 | 350 € | 350 € |
| 2 | 280 € | 280 € |
| 3 | 150 € | 150 € |
.Entry

From 10/09/2018 to 15/04/2019 Eur 250

From 16/04/2019 to 03/05/2019 Eur 275

Entry fees will only be returned in the event of illness which must be communicated by the Wednesday before the event and accompanied by a medical certificate. Bank transfer fees will be paid by the entrant.

Maximum number of participants 226

To enter online, please fill in the following form: online inscriptions
.Location

| | | |
| --- | --- | --- |
| By road: CN 340. Motorway AP-7, exit 39A towards L'Ampolla. | By air: Reus airport is 70km, Barcelona airport 150km, Valencia airport 190km. | By train: L'Ampolla station. |

| | |
| --- | --- |
| Google Maps L'Ampolla | Google Earth L'Ampolla |
.Weather conditions
.Results

| | | | | | | | |
| --- | --- | --- | --- | --- | --- | --- | --- |
| 2004 | 2005 | 2006 | 2007 | 2008 | 2009 | 2010 | 2011 |
| 2012 | 2013 | 2014 | 2016 | 2017 | 2018 | | |
.Photos
.Videos

2004

Embrunman07 -02:10

2005

sherbornewanderer -06:31

2007 >

IRONELO - 09:55

2008 >

loque1969 - 06:25

chuvavasco - 04:51

Mikkasalonen - 04:30

lotioplanxa - 00:42

selatrag... - 00:24

Mikkasalonen - 9:56

emilill9:48

2009 >

pedroseb- 0:28

tutantgsd- 2:08

6l2i3k4ia - 8:58

bescale - 3:26

czs65d - 10:37

JHM23101973 - 3:52

DiegoLaborda - 7:26

DiegoLaborda - 7:49

DiegoLaborda - 7:49

2010 >

DiegoLaborda - 10:28

DiegoLaborda - 12:20

Chuva Vasco / Abel Condesso - 9:59

josé serrano - 11:37

Emili Ll - 8:00

Desafiovicente - 0:52

Desafiovicente - 0:58

Desafiovicente - 0:19

ornitorrinco42 - 4:45

fvasic9 - 10:30

Farso7 - 10:38

jbofilldela - 2:26

2011 >

alezinhalinda - 4:04

aitorsalaberria - 13:19

2012>

PauBuera - 2:49

pep8paula - 2:13

PauBuera - 2:49

Creu Roja

pep8paula - 2:13

2013>

UFEC TV - 4:17

jmorenofurner - 9:09

iserranogiralde - 0:45

jpuig128 - 8:00

Creu Roja L'Ampolla - 5:35

TV UFEC - 4:24

Pedro J 4:45

TheTonin10 - 4:09

Liberto Monlleó - 4:15

thanos - 5:01

Miquel ... - 6:56

Pau Buera - 18:53

Luis Martinez - 2:16

Francisco - 10:38

226RidersTriTeam 3:09

Josep Mª Puig - 8:00

2014>

UFEC TV ... - 4:57

Jacinto Paga ... - 9:19

TheVicJim ... - 3:39

TheVicJim ... - 3:39

Sergi Rodríguez ... - 8:38

Mistrovství K. ... - 4:17

RottenHD ... - 1:04

2016>

UFEC TV ... - 4:18

Branwook ... - 6:16

Silvia García ... - 8:39

2017>

UFEC TV ... - 3:18

Eduardo Mas ... - 3:20

Canal Terres de l'Ebre
... - 1:41

Canal21Ebre ... - 2:02

2018>

Cinto Pagà ... -48:38

Ebre Actiu ... - 3:00

Canal21Ebre ... - 2:39

UFEC TV ... - 3:16

Sílvia garcía ... - 5:44
| | |
| --- | --- |
| | .Questions |
.Organizers

Presidents of Honour

Presidenta FCTRI: Francina Guardiola - Mayor of l'Ampolla: Paco Arasa

__________________

Town council coordinator: Thais Cotaina

With the support and collaboration of:

| | | | | |
| --- | --- | --- | --- | --- |
| | | | | |
.Sponsors
© 2007 - Federació Catalana de Triatló - All rights reserved